Joined

Dec 31, 2006
Posts

2,884
Location

Twin Peaks mall, 2nd floor
Society

Dirty Dingos
Avatar Name

Inherent Marxus Legends
Thanks for checking out my MUTANT ARMOR Shop thread! This shop features all the best Acid and Cold Armors and Armor plates. The word "Mutant" in the name of the shop is used loosely since not all Mutants deal Cold or Acid, and although some of the more popular Mutants such as Feffoids, Feffox and Subject SH-30 do, there are many Animals that deal Acid or Cold as well.
I wanted this shop to be more than just a place where you can buy Armor, I wanted it to be a real resource for hunters, so I decided to create some signs that could serve as a guide to show some possible Armor setups for specific mobs of different maturities. I spent quite a bit of time researching what Armors and plates would make the most sense to combine and use. Many factors were considered for this, such as availability of the armor, price, stats, etc... What I came up with is what I believe to be all the best options in the game at this time.
There is no specific recommendation being made for a given maturity, instead I just show a basic progression of Armor setups from weaker (starting on the left), to stronger (to the right), with the strongest possible Armor setup being furthest to the right. Amongst these you can see that I have inserted various maturities along with the actual damage that they can deal. When determining which Armor setup might be suitable for you, you should consider any Life Steal you have access to, your Evade level and your Healing tool options. If you have none of these, than you should probably look to the right and over-protect. If you do have Life Steal, high Evade and a good Healing tool, you should look to the left of the maturity you plan on hunting and under-protect.
When I made these signs I was careful not to introduce any biases and instead forced myself to just focus on what the best options would be, economically and otherwise. Several times I could have tried to push some specific Armor that I craft but instead I decided to just present to you what the actual best possible options are, without any ulterior motive or agenda on my part. I hope that the information on the signs will be of some benefit to you, that would make all my time and ped spent for the uploads all worthwhile.
If you would like to explore more options for a specific mob then the table below might be useful to you in doing so.
Special Damage Armors and Plates:
The Armor Chart below shows all of the Armors currently in the game which have special damage protection and plots each Armor horizontally based on what it protects against, i.e. Electric, Cold or Acid, and Vertically based on how much total Special damage protection it offers.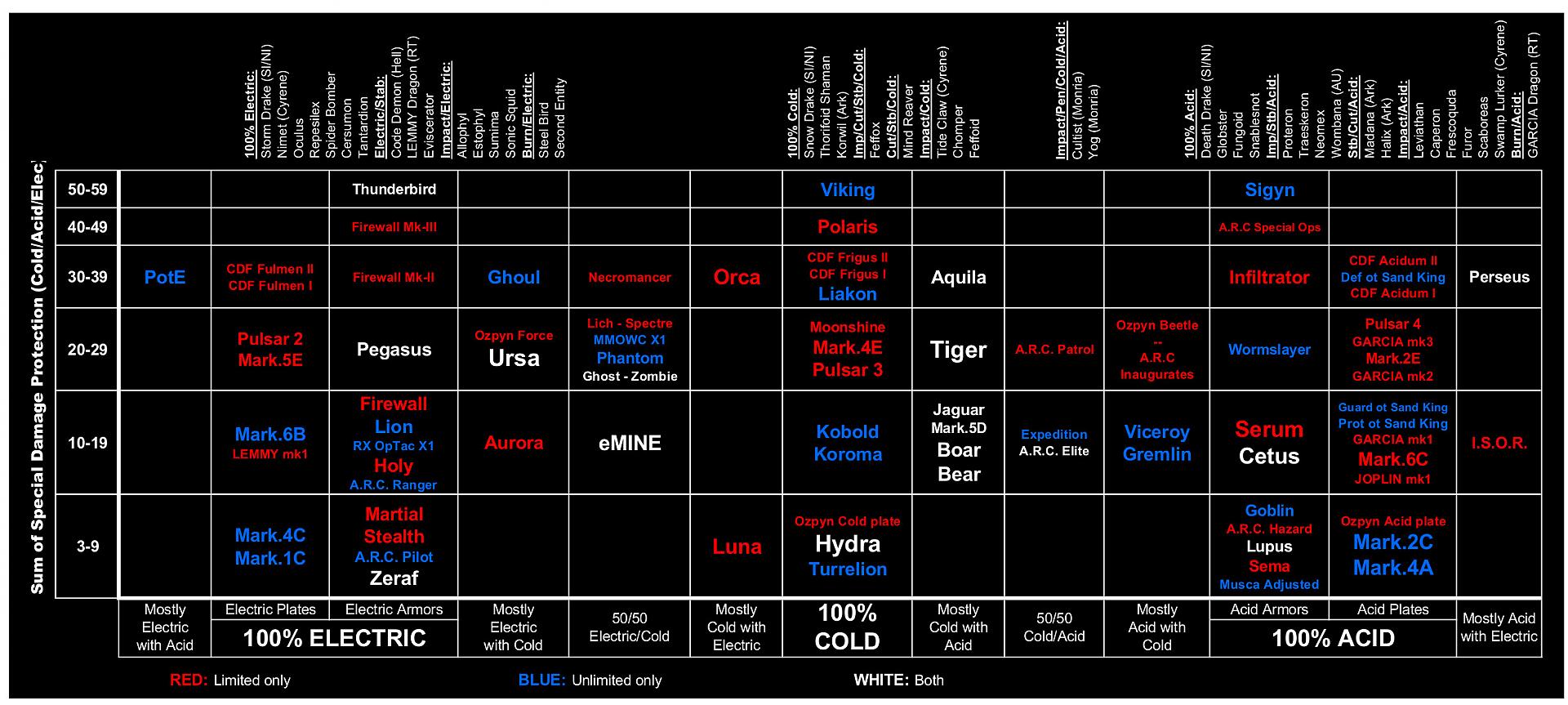 See
enlarged image
Along the bottom of this table you will see that Armors with mostly Electric protection are located on the left side while Armors with mostly Acid protection are located on the right side of the table. Armors offering mostly Cold protection will be found near the center.
Along the left edge of the table is the total amount of Special damage protection. The higher the number, the stronger the armor is. For example
Aquila
Armor is found somewhere between Acid and Cold because those are the Special damage types it offers protection against. When you add up the Cold and Acid protection you get a total of 33 points, therefore Aquila is found in the slot for protection between 30-39.
At the top of the table I have added the names of mobs that typically could be hunted using armors in this table.
And lastly, I have color coded all Armor names so it's easy to see at a glance whether the Armor is available only in a Limited version (
Red
), Unlimited version (
blue
), or both (white).
Note that some Armors have been omitted from this table for clarity, either because they are not well suited for defending against Special damage creatures, are no longer available or are unique.
Most popular Acid mobs in Entropia
If you need some help figuring out how you can use the information on the signs in my shops to tell what Armor and Plate combo you need in order to hunt specific mobs you want to hunt, here's a youtube video that walks you through that:
Cheers o/
Legends
Last edited: