Please check the last posts of this thread to see an updated list of Land Areas that have 0% tax
Holy Moly!
You read it right!
We are with great pleasure introducing our latest offer to the community!
We have decided to put 0.00% TAX on ALL Holy Moly! Owned Land Areas!
This is your chance to grind codex missions on a lot of unique and rare mobs with the best spawns in game!
Bonus event on falxangius:
We will again offer to buy any high TIR Kinetic 15 chips that would drop from them. For all chips above 1k TIR we pay markup corresponding to the first 3 numbers in their TIR number. So if you loot a 3500TIR chip we pay 350% MU.

Takuta Plateu - Araneatrox young
By far the best place to grind spider codex. Don't think these needs much introduction, known for being one of the best mobs to skill on due to their high level. Regularly drop adj-perf mind force implants and also dropped Mod merc, M91 aug, and similar loot in the past.
Greenthorne - Mining LA with occasional Formidon young
Formidons hasn't been very popular, but the minerals are! So we decided to turn this into a mining LA. Can be changed upon request.
Vermillion Fields - Falxangius stalkers
By far fastest way to finish falx codex, very good looting mob, with lots of angel armor parts and other items dropping. This mob can HOF for 10k+!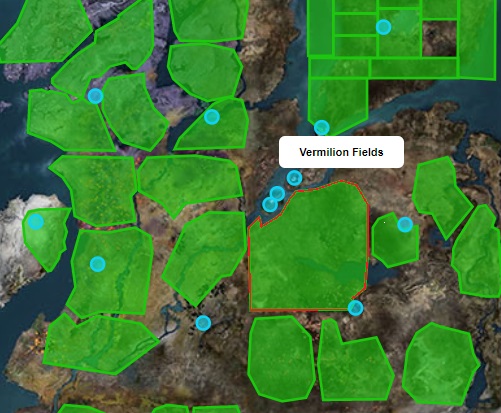 Miwak Mountain Pass - Legendary Thorio Berserkers
Superior place to grind Tier 3 components and Thoriofoid helmets. If you struggle with generating markup, this is the place to go.
Red Sands Forest - Cersumon Prov-Alpha
By far the best land area to finish cersumon codex. Bring a ranged gun.
Farsight Plains - Oculus Stalker
Fastest way to finish Oculus codex. Bring a ranged gun.
Southshade Valley - Kingfisher stalkers
Here is a good one, only decent kingfisher spawn in game. Put to stalker maturity, drop lots of heart oil, angel parts and even unL Supremacy. This mob can hof for 10k+!
Cape Carramone - Gradivore stalkers
Very popular LA, very quick way to finish codex on Gradivores. Recently dropped a CalyTrek UnL rifle.
Duration of the tax free period is based on LG times. When lands are re-claimed the tax will be set back to the standard low 2%.
For the community!
Best Regards,
Holy Moly!
Last edited: