Joined

Dec 31, 2006
Posts

2,884
Location

Twin Peaks mall, 2nd floor
Society

Dirty Dingos
Avatar Name

Inherent Marxus Legends
I think that my chief complaint right now is that in the current paradigm, whoever is fast enough to get ahead of market cycles is who will profit, everyone else loses. What do I mean exactly:
I am now completely priced out of the Damage Enhancers market, and the high-level ArMatrix market (70-105). Why? Because in order to be able to compete in these markets, I would have had to stockpile the mats for the last couple months, BEFORE the big jump that just happened. For the Damage Enhancers, it's the Pyrite, for the high level ArMatrix it's the Ignisium.
Having failed to stockpile, do I risk it now and buy at current markups? What if this is the highest it will be and it's all downhill from here? I will never be able to recuperate my input costs because others will undercut me and my crafted goods will just sit on the shelves or in auction untouched.
This system sucks, the meta for crafters/shop owners is: Sink all your PED into materials when they appear to be at their lows, hope they go up so you can craft cheaply to your hearts content and sell sell sell for big profits. I'm tired of it. I haven't done the math on this but I probably have more than 50k ped stuck in resources in an effort to create some kind of pricing stability for myself and it's still not good enough.
Just for the sake of being very specific, let's have a look at some of this price volatility that I'm referring to:
​
Here's one, Dianthus, which I've been trying to buy for the last year and a half. It used to go back down around 140% between Mayhems, not anymore. So I've been holding out in vain. I need it in order to make Aquila armor and I would also like to add Accuracy and Economy Enhancers to some of my shops, but I don't want to get screwed on the price of Dianthus, so I wait. It seems now that the new floor is 180%, with a ceiling potentially at around 260%. If it ever comes back down around 180%, I'll probably buy it again...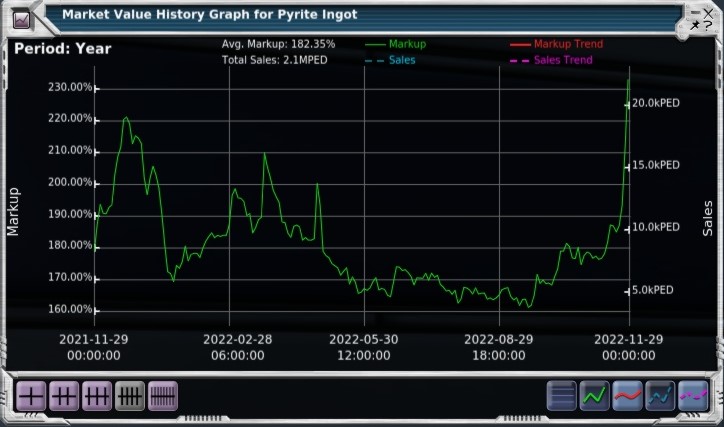 This one has been the subject of a lot of discussion lately, Pyrite, for Damage Enhancers. Bascially, as soon as you buy it, you can be certain it's going to do one of 2 things; it's either going to go up, or it's going to go down. It just doesn't stay flat, it has wild swings and those swings can be very sudden at times. If you bought lots and then it goes down, you won't be able to recover your costs on the Damage Enhancers you make with it, unless you wait for it to come back up, sometimes you'd wait for a year. Sure, it seems rather predictable that the summer is the time to stock up on it, but how much of it should a person stock? Is it enough? How long will it last? What do you do once you run out?
​
Used in making 12 different ArMatrix guns and Infiltrator armor. Just look at those swings! How in the hell is someone supposed to be able to do well in an environment where prices on things can fluctuate by 250%!? We are having the craziest inflation in 40 years around the world right now and we're talking about roughly 8% in some countries up to as high as 11% in others, and here we have a resource that can drop or jump as much as 250% several times per year!! Is it going to come back down again? Should I wait to buy more and just not craft those things for now...? Do you begin to see my predicament here?
​
This is the one that is really infuriating me right now. For the last couple of years it was going between 120% and 140%, so I was waiting for it to come back down a bit. I never could have known that this was going to happen, and now I'm done; I can no longer make high level ArMatrix because one way or another, you need Ignisium to make the crafted components required to make them cause you need a lot of High Grade Plugs to make GeoTrek Hardened EnBolts, which is needed to make Enhanced Talytic Converters. Not to mention that you need Igni again to make Triphased Intelligence Modules. This is just a total clusterf*ck. Should I buy some now? Is it going to go even higher? Or should I wait it out?
​
Here's a much more common resource: Garcen. This is used in a few different crafted components but the most popular one is Durable Hood, which is needed for making Super Alloy Mountings which is needed for making the higher level ArMatrix guns, amps and AP plates. So, in the last 12 months, we went from 120% to 160%. Then back down to 140%. When it came back down to 140%, many of us thought "Ok, let's just wait a bit more, it'll probably come down further", but NO! It went even higher! to 170%! So then when it came back down to 140%, some of us started stocking up on it since by that point it seemed like 140% was the new floor for it. Then it just kept going down! There's just no way to predict some of these, and that just creates a very volatile and chaotic environment for some of us that are just trying to run a crafting business or some shops.
So yes, in the last little while I've been posting about overhauling the Mining profession, yes I'm frustrated and no, I'm not a miner and I don't really know what is wrong with Mining. But this is
NOT
a healthy market for anyone to try to operate in! It ruins the game for everyone! Who benefits from such price instability??? It only reinforces market manipulation and the only people that can win in this system is people with a very good understanding of the cycles and lots of PED on their cards. While the rest of us who are just trying to get by with our shop or our crafting business pay for this, don't you see?
Please fix this damn price VOLATILITY!