Joined

Apr 22, 2005
Posts

1,738
Society

Dark Templar
Avatar Name

Freyr
All items on display at
Summer's Fashion Designs - Emerald Lake Mall, Floor , Shop 14
Items valued compared to the cost of recreating a similar item, if possible at all. Markup reflects the cost of very high level colors, textures and their availablility, not neccessarily the item itself.
Most items will be sold seperate however a set will be sold at a discounted price
Pants and Shirt from image 6 will only be sold together.
Item or deed trades will also be considered.
| | | | | | |
| --- | --- | --- | --- | --- | --- |
| 1 | Item | Paint | Texture | | Price TT+ |
| | Master Coat | Black/White/Black | Niksarium (on black paint) | | 8500 |
| | Feodora | Black | Medium Freeze (white) | | 4000 |
| | Jeans | Burgundy | Fine Silk | | 250 |
| | Rexely Mesh Tanktop | | | | 150 |
| | | | | | |
| --- | --- | --- | --- | --- | --- |
| 2 | Item | Paint | Texture | | Price TT+ |
| | Mastercoat | Black/White/Dark Blue | | | 5000 |
| | Feodora | Black | Medium Freeze (white) | | 4000 |
| | Jeans | Darkslate Grey | | | 750 |
| | Rexely Mesh Tanktop | | | | 150 |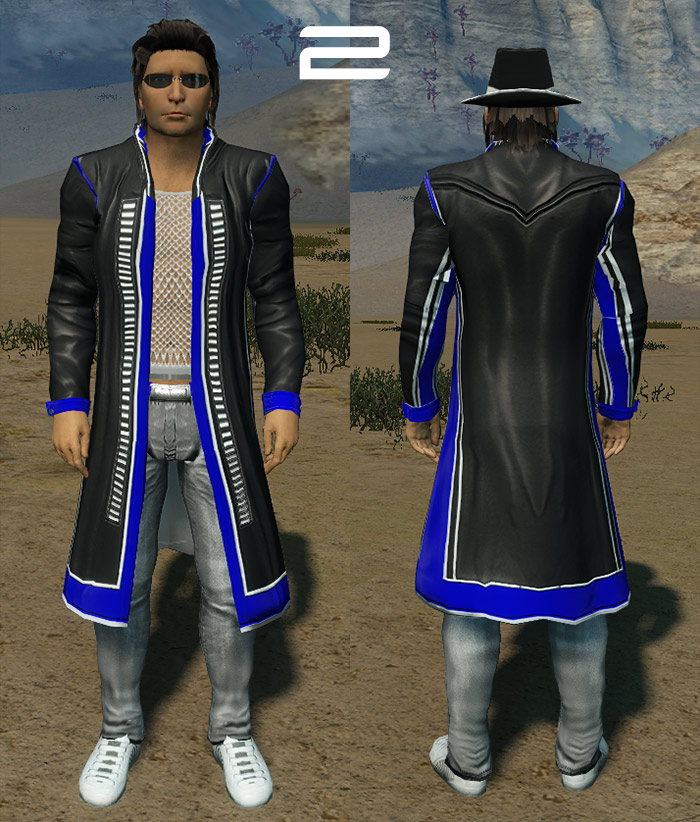 | | | | | | |
| --- | --- | --- | --- | --- | --- |
| 3 | Item | Paint | Texture | | Price TT+ |
| | Mastercoat | | Turp | | 1750 |
| | Jeans | Darkslate Grey | | | 750 |
| | Rexely Mesh Tanktop | | | | 150 |
| | | | | | |
| --- | --- | --- | --- | --- | --- |
| 4 | Item | Paint | Texture | | Price TT+ |
| | Mastercoat | | Atrox | | 1000 |
| | Jeans | | Otorugi | | 200 |
| | Rexely Mesh Tanktop | | | | 150 |
| | | | | | |
| --- | --- | --- | --- | --- | --- |
| | Item | Paint | Texture | | Price TT+ |
| 5 | Cognaccoat | | Tantillion | | 1750 |
| 6 | Shirt | | Tantillion | | 500 |
| 6 | Pants | | Tantillion | | 500 |
Last edited: