Joined

Feb 2, 2011
Posts

2,437
Location

Salt Lake City, USA
Avatar Name

Rachel MsPudding Hawkins
Every now and then a solid, sought after LA comes to market. One with a great DNA, great location, and at a great price. This is that kind of LA.
Up for sale is an
excellent
Land Area on Arkadia, named by StarKiller & the community back in April of 2016
This Land Area,
Sentosa's Reach
, features the
Mutated Madana
, a mutated leopard-like-mob with anywhere from 730 HP to 2880 HP
Not only is this a fantastic looking mob, set on a beautiful snowy tundra, but this sale includes it's own two story estate with a full service bar
and its very own Teleporter! Sentosa's Reach has been a top Land Area to own on Arkadia for years. Well managed and looked after, this Land Area is a great investment opportunity for any aspiring LA Owner or current owner looking to add a nice Arkadia LA to their portfolio.
Features:
2 x Mutated Madana DNA (unique)
Teleporter
Very Low Cost to upkeep DNA (approx 7.5 PED per day lowest maturity)
Housing Estate Deed: (Arkadia Land Area 4 Estate)
Land Area Deed: (Sentosa's Reach Property Deed)
Permanent Global Naming
Excellent Medium Sized Mob 730 - 2880 HP
Great Mission Chain w/ awesome rewards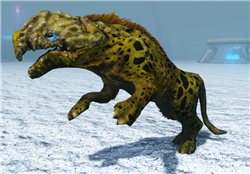 Mutated Madana


​
Madana Mission Chain:


​
It is advised that you do your due diligence to check out this property in person. Ask around, maybe even reach out to past owners of it and ask any questions you might have. This is a fantastic property on Arkadia, and if I weren't focused on consolidating my time and energy to actively managing my properties on Calypso, this would definitely be a property I would love to run.
Auction anti-snipe rule in effect. Once the start bid has been reached, the auction will run for 48 hours. Each additional bid must be in 1k increments, and each bid adds 12 hours to the auction. The winner of the auction will be given 5 days to collect and transfer the funds to me in game. All bids must be public, no anonymous bids are allowed, every bidder needs to know who they are bidding against
Tax Revenue is minimal because I have neglected to manage this LA, while owning it for the past 6 weeks. I didn't announce ownership, nor did I run any events. Keep in mind that you don't collect tax revenue unless your LA generated 50 PED or more, hence a lot of 0's while it built up. I have been entirely focused on my Calypso Land Areas and new website, and plan to further manage them and build more infrastructure around those, which is why this LA is now for sale. Running events and managing a Land Area is what generates income -- this is NOT a CLD investment, do not treat it as such. LA Management can be the best investment you ever make, it can also be the worst investment you ever make. You get out what you put in.
SB:
175k
BO: 225k
Tax Revenue past 6 weeks (passive income)
0
0
260.07
363.93
90.31
0
0
221.9
0
75.35
0
0
57.08
67
0
0
0
0
0
0
0
0
0
62.44
0
0
0
265.88
0
0
0
0
0
54.88
0
0
0
0
60.34
0
0
63.65
0
0
0
Passive Tax Revenue:
1,642.83 PED TOTAL in 6 weeks~


Estimated Passive Annual ROI% at 225k price = 4-5%
Estimated Passive Annual ROI% at 175k price = 6-7%

You should not be purchasing the LA to get a 4-7% passive annual ROI, your work and efforts should at least double or triple that ROI. A passive ROI approach is better guaranteed in CLDs, as this estimated ROI is being calculated on the past 6 weeks.

The passive ROI should only be viewed as a windfall for when you don't run events, as well as indicate to any interested buyer that this Land Area has "natural draw", something most other Land Areas do not have

Sentosa's Reach generates a fair bit of it's own traffic and visitors organically, without events, and without promotion.

There are many LA's that generate less than 1k PED a year, Sentosa's Reach is not one of them. Sentosa's Reach is slated to produce an estimated 11k-14k PEDs passive annual revenue, with 0 effort, as long as current trends continued for a year.

I am accepting PEDS, CLDs, AUDs, and other Land Area Estates (Including a Biodome) as trade. Calypso Land Area Estates and PEDs are my preferred choice




Some photos of the Land Area:​



Your own Teleporter
Your own Mansion
Your own Estate w/ 70 item points for a shop & full service bar in the background
​
Last edited: