MindArk Official
Staff member
Admin
MindArk Official
Joined

May 4, 2020
Posts

130
The top three are:
Warlock, 75 votes
Atrox, 62 votes
Subject SH-30, 46 votes
This "Preferable type of Mob Merchandise" poll is mainly targeted towards the winner of the previous poll, the
Warlock
mob. What kind of merchandise would you be interested in buying when it comes to the Warlock mob?
Here are the results from the "Most wanted mob merchandise poll" both from the PCF thread and Discord post.
From the
PCF thread
:
From the
Discord Post
[To join this discord channel click this link
https://discord.gg/hTKgRxSwCz
] :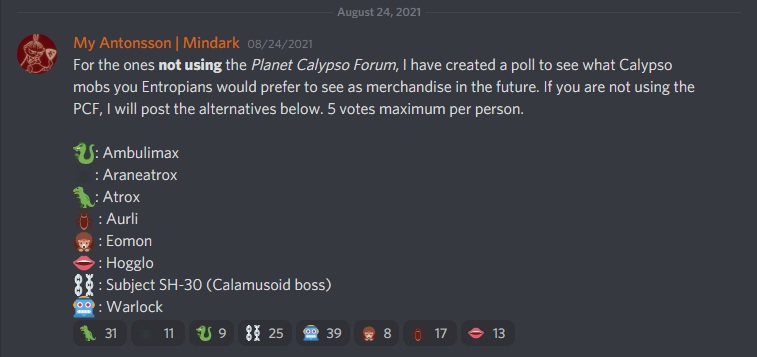 Calculated result:
Ambulimax:12+9= 21 votes
Araneatrox: 25+11= 36 votes
Atrox: 31+31= 62 votes
Aurli: 25+17= 42 votes
Eomon: 26+8= 34 votes
Hogglo: 29+13= 42 votes
Subject SH-30: 21+25= 46 votes
Warlock: 36+39 = 75 votes