Joined

Dec 28, 2010
Posts

3,387
Society

Freelancer
Do you want to make great money providing excellent service while gaining mad skills? Want to keep yourself alive in PvP or hunting the biggest mobs in the game without breaking the bank on defense costs? Or have you always dreamed of seeing your name on the All Time High list? The Omegaton Fast Aid FAP FEN Edition is truly a harbinger of greatness! One of the very rare "skill buffed" FAPs, this FAP provides tremendous skillgains, and with extremely minimal cost! With the higher level unlocks the net value of the skills gained literally exceeds the decay on the FAP itself.
Imagine yourself giving your buddies the chance to hunt mobs they never dreamed they could, keeping them alive with
consistent
207 heals
every single click
as they blast away at Mulcibers, Warrior Commanders, and Proteron Stalkers! Imagine your surprise at the tiny decay bill at the end of an epic team hunt!
See the Progress slider finally making noticeable gains as your Paramedic level soars toward that elite Doctor unlock! Tier 3 brought me to the #16 spot on the Item Tiering All Time High, now imagine yourself clicking tier 4 and locking in your name into the top five!
"With great power comes great responsibility"
Pave your path to greatness. Send me a compelling offer today! Best way to reach me is by Discord at Captain_Lucky_Jack#2733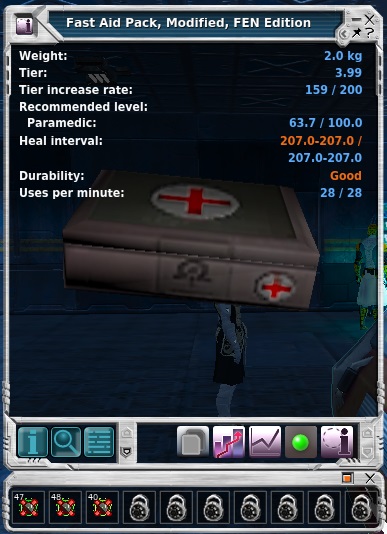 Last edited: