Joined

Apr 6, 2013
Posts

2,465
Location

Canada
Society

Freelancer
Avatar Name

Aurisk Morey Kenbi
The Chain of Ascension PHASE 2 - WIN 10k PED in a Day.
By:
www.entropiainvest.com
EVENT DURATION
Phase 2:
Feb 1st, 2021
-
March 31st, 2021 (UTC Time)
Phase 1: December 1st to Jan 31st, 2021 (UTC Time)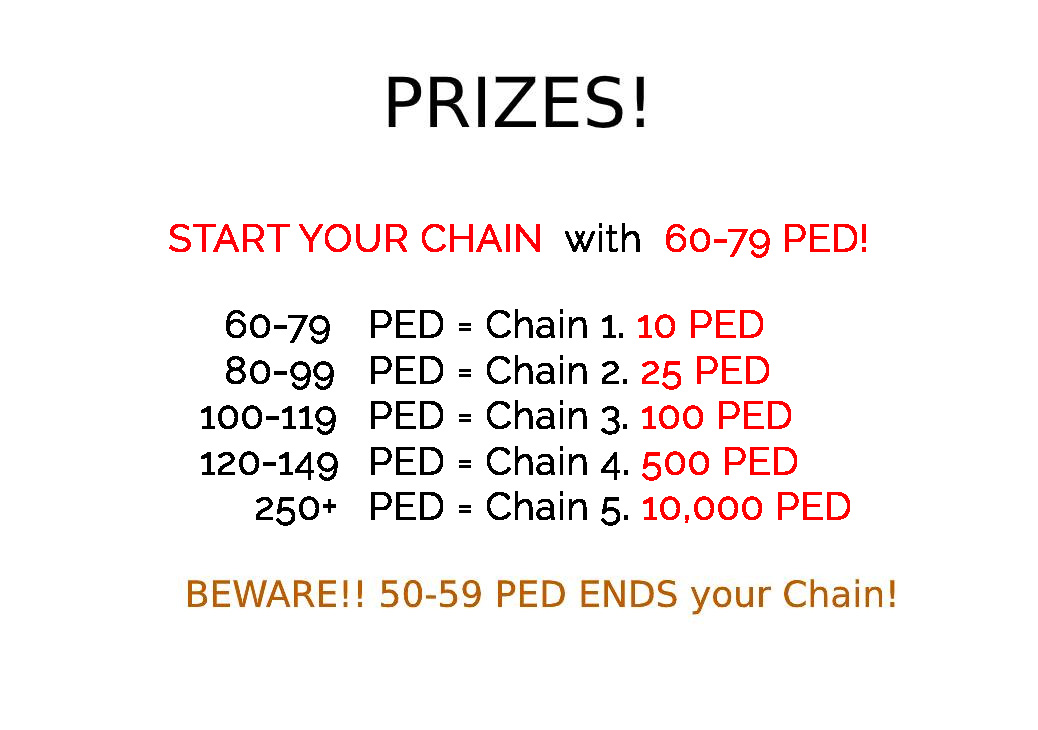 EVENT RULES
* A Maximum of 3x 10,000 PED Prizes can be awarded
​
60-79 PED Global and start a new Chain at Number 1!

Chain Numbers must be completed 1 at a time from 1 to 5

Next Chain Number must be completed within 1.5 hour of Previous Chain Number's completion

Chain Number Prizes are not cumulative per Chain. (ex: Chain 4 completed, but failed chain 5, = 500 PED prize).

Prizes are given based on the last completed Chain Number

A player may start unlimited Chains.

​
EXAMPLES:
#1
75 PED at 3:00pm
60 PED at 3:10pm (Chain 1 Completed, chain starts.)
99 PED at 3:30pm
82 PED at 3:55pm (Chain 2 Completed)
108 PED at 3:57pm (Chain 3 Completed, time for chain 4 ends at 5:57pm).)
126 PED at 6:30pm (
not counted, chain 4 ended 33 minutes ago. Prize Redeemed = 100 PED
)
#2
79 PED at 9:20pm (Chain 1 Completed)
68 PED at 9:40pm
85 PED at 10:05pm (Chain 2 Completed)
55 PED at 10:30pm (
Ended by 50-59 global during chain. Prize Redeemed = 25 PED
)
#3
64 PED at 2:10pm (Chain 1 Completed)
88 PED at 2:20pm (
Chain expired at 4:20pm, Prize Redeemed = 10 PED
)
85 PED at 6:05pm
73 PED at 10:30pm (
Chain 1 Completed, new chain start
)
PARTICIPATING LAND AREAS

REGISTER
with FULL AVATAR NAME
​
*Disclaimer
1. Solo Hunting only.
2. We advise all participants to run Entropia Life client (Especially at Arkadia) to ensure your globals register. Globals that does not show up on entropialife will be lost.
3. If an individual is found to be cheating in any form or manner, he will be disqualified for the event without any compensation and banned from future EntropiaInvest events.
4. We reserve the right to make changes as required. All prizes and scores before changes will be honored.
5. Prizes can be claimed from Divinity Deth Undefined or Aurisk Morey Kenbi.
6. Outstanding prizes can be claimed up to 2 months after end of event. Be sure to claim by then, otherwise prizes are forfeit.
7. Entropialife.com may have a few minutes of discrepancy for global times. In case of dispute for close times, submit a screenshot with current time, and we will double check from chat logs.
Last edited: