Hey just wanted to start up a hunting log to track my progress through Entropia for myself and any others whom might be interested.

Backstory on me:

I played this game a little bit back when it was called Project Entropia as a kid around 2004-2009 but never did much besides sweat a few mobs since I couldn't deposit. I decided to check up on the game after many years, but sadly found my character completely wiped when loading into Port Atlantis with zero items/ped/skills. Originally I planned to just pick up the game casually for fun, but after discovering Messi's story as well as seeing the success of other players like Evey for example, it really motivated me to see if I could push myself in this game. I don't have any goals of trying to make a living off this game I just want to see if one day I can become an uber.

June 15 -> July 31st progress



Current stats:

Avatar: Yasuki Yuki Kairi (created June 15, 2022)

Total skills: 129340

Health: 100 -> 154

Laser Pistoleer Hit: 1 -> 57

Ranged Laser Dmg: 1 -> 55

Animal Looter: 1 -> 40

Mutant Looter: 1 -> 19

Robot Looter: 1 -> 13

Evader: 1 -> 29

Dodger: 1 -> 19

Current Gear:

A&P Series Mayhem LP-40, Perfected Tier 5 + Omegaton A105, Improved

Notable Loot:

Apologies for the cropped photos but my entropia life sometimes bugs out and doesn't screenshot my loot swirly for me

First ever ESI dropped from Longtooth Young
First ever HOF (Unfortunately a tiny one since the hof board just reset)
Some additional HOFs

Big global that EntropiaLife actually managed to screenshot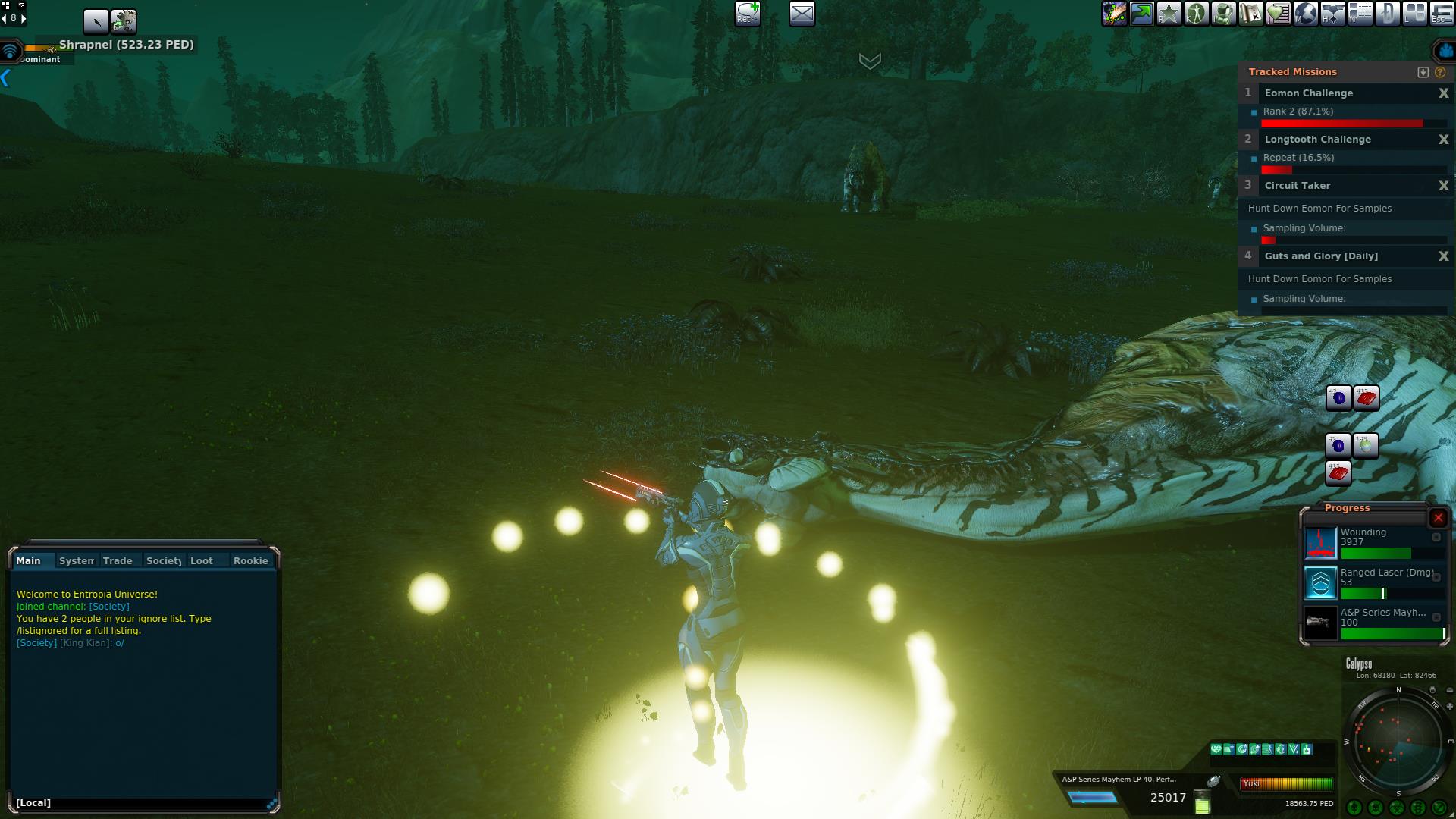 Returns for July 17 -> July 31:


I spent some time messing with different loot trackers and ultimately settled on Entropia Tally which I started using July 17th so I'll just be posting my current returns using that program.
| | | | | | |
| --- | --- | --- | --- | --- | --- |
| Total Loot TT | Total Spent TT | TT Returns | Globals | Hofs | Kill count/Loot events |
| 130368.88 PED | 137027.64 PED | 95.14 % | 247 | 2 | 20279 |
Current goals
My current short term goal is to get lvl 100 in Laser Pistoleer and just prepare as much as I can for my first ever Mayhem event. For now I've just only exclusively been hunting Longtooths for a chance at a Camo Arms rare drop, but once Migration is over I'm going to experiment and see what's the best skilling mobs out there. After getting lvl 100 Laser Pistoleer I plan to branch out into Melee and Mindforce just in preparation if new weapons are released especially with TWEN event being a possibility I don't want to miss out on it.
Long term goals, I want to get lvl 100 looter in all 3 categories
Conclusion for the month
Overall I'm really happy with my progress so far, I managed to get lvl 57 Laser Pistoleer and lvl 40 Animal Looter purely through hunting Longtooths which seems like one of the worst mobs to skill on in the game. No luck yet on Migration, but I did manage to get the 2nd highest amount of Longtooth globals for the month which is really cool considering I started out the month hunting LT Adolescents with an Armatrix LP-10 and moved all the way to hunting LT Old Alphas near the last few days.
If anyone has any helpful tips or criticism I'm open to hearing it. I'm always looking to improve or learn more from other's who are more experienced than me. Anyways thanks for checking out my progress thread so far I plan to upload at the end of every month.