Joined

Apr 6, 2013
Posts

2,112
Society

Freelancer
Avatar Name

Aurisk Morey Kenbi
What you will get:
1. Priority Listing of your shop + shop theme in LA's custom message (first come first serve until space runs out)
2. Marketing by your new management for general Mall traffic.
3. Own a shop without having your PED tied up.
How to Rent:
1. We trade Shop Deed for your Collateral (16k worth for small shop, 24k for large, 30k for upgraded)
2. You claim the shop and now have full control over the estate.
3. We trade back. Deed is not needed to run the estate.
4. Your shop is open for business!
* There is an element of Trust here. Your shop deed(s) will be held by: Divinity Deth Undefined. He has ran multiple Trust based investment funds (Twin peaks bank shares, Terminator Fund) in the past 4 years, and is the owner of Twin Peaks Bank. You are in good hands.
https://www.planetcalypsoforum.com/forums/showthread.php?264277-Twin-Peaks-Bank-Bringing-Liquidity-and-Exposure-to-You
Current Available Shops
None



Shops: (minimum 1 month rent)
8 x 40 Item Point Shops: 110 PED Monthly
3 x 60 Item Point + 20 IP in display area: 225 PED Monthly
3 x 100 Item Point Shops: 225 PED Monthly
2 x 100 Item Point + 20 IP in display area: 250 PED Monthly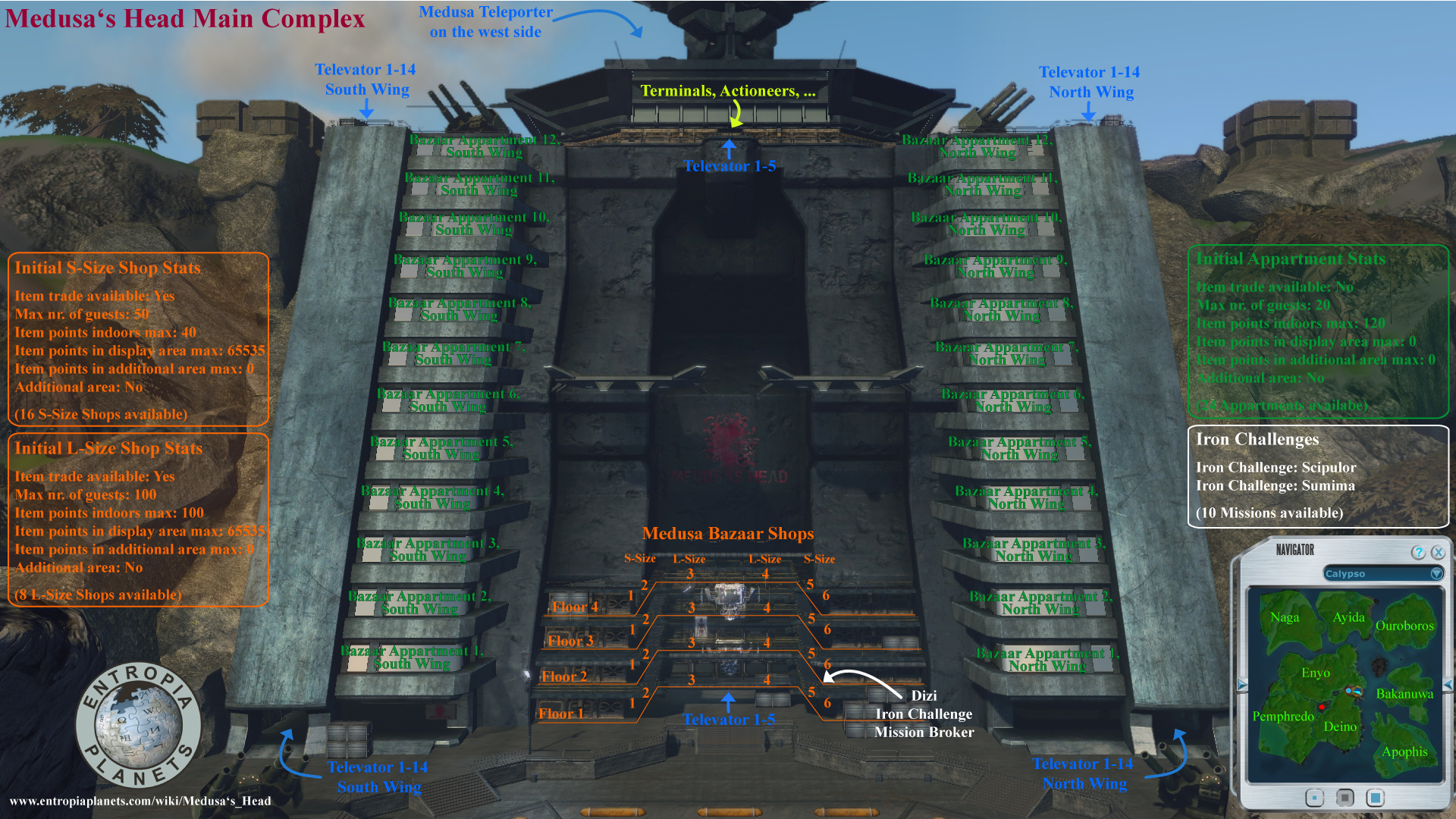 Rentable Shops at Medusa:

F4S1:
F4S2:
Low lv mining and Athena Amps
F4S3:
Evy's Low-Mid Hunting Supplies
F4S4:
Soko's Dmg Enhnacers 1-9
F4S5:
Pill, Fap, low lv guns (ETCETERA)
F4S6:
Plates and vehicles (People's Swap)
F3S3:
Tsunades Exotic Shop
F3S4:
(High Tier) Armatrix, Mindforce
F3S5:
Armatrix Supplies
F2S1:
Lorespade's shop
F2S2:
Misc & Pills
F2S3:
ESIs, Amps, Armatrix, Dmg Enh, Boxes - Messi91's shop
F2S5:
Rk-5, ww, thursters, tools
F2S6:
Mindforce Amp & Ark Shop
F1S1:
Mining Store
F1S5:
Mining Terra Amps: L Finders
F1S6:
People's Swap: Unlimited Items + Variety Goods
FAQ:
Are there any requirements to be a shop owner here?
Yes. Just be active in managing it! We're here to build a thriving mall.
What happens if a shop owners that rents with does not actively manage the shop?
We will inform you to remove the items and we will take over the shop
Rent sucks! Why don't I just buy it and not pay rent?
14k tied up is worth about 6.5 clds. Assuming CLDs pay 3.5ped weekly, that's 3.5*6.5*4 = 91 PED/m. Basically for CLD payouts, you get to run a shop without ped tied up, or stress of selling if it doesn't work out.
We Keep a 3 month deposit. The deposit is just so if we have trouble catching each other online, we can extract rent from the deposit. Deposit will be given back to you upon leaving.
There will be a spreadsheet created for all Medusa shopowners to see and track their own details.
-
Cant help myself and I just need to say a few things about this UNIQUE idea and GREAT opportunity for a lot of people that ever dreamed of having a shop.

The Mall itself and the idea behind it is how a success full manager would do in RL also.
Divinity is keeping the full control over all shops + she gets rent + if shops are selling she gets payed fee.
If a shop isn't doing great or the tenant wants to stop with the shop ... no problem, talk to the owner and agree of a date. I'm pretty sure she will have a list of people that want to try out a shop as well soon.
Competition is always there of course but in this case, never next door so that's a great + again.

Buying and running a shop are 2 different things
Buying and filling the shop are also 2 different things and ped drainers.
Here you just need to pay your monthly rent
Many have tried and many have failed due to several reasons and it costed them a lot of peds + lots of time to sell the shop again.
If a shop isn't doing good, then you need to adjust things.
Here many can have a try to run a shop without having lots of peds locked and learn from it how to run it. It's not just putting things in it, price tag and hope it will sell
Most are small shops, so easier to run and build up slowly.
If all goes great they can still think about buying a bigger shop themselves.

On top of all that, you can even put your shop on the shop list so people can find it very easy as a bonus.
All this is a lot of work but I'm sure it will pay off after some time.
In this case its a win/win situation for the mall owner as for the tenant and most important, no empty gabs of empty shop !!!

Good luck all and I'm sure it will work
Last edited: