Joined

Aug 23, 2021
Posts

318
Location

London, England
Society

Freelancer
Avatar Name

INTERNUT
Guide to Obtaining and Running a Shop in Entropia Universe
Introduction
Shops and other similar points of sale, play a vital role in the economy of Entropia Universe. This short guide explains in simple terms how to acquire and run a shop or similar premises.
How the Shop System Works
Estate Deed
In order to access and use a shop or similar point of sale in Entropia Universe, you must first acquire the Estate Deed. Estate deeds can be obtained from the auction system or by conducting private trade with another participant (participant-to participant trading). If by private trade, ensure that you have the deed before completing the transaction. All transactions are final once made! The deed will now be in your Personal Inventory (PI) in the section where your PED card is held.
You now have to check the deed that will have certain information, such as the location of the estate. Upon finding the shop / shop stall / shop booth, look for the Estate Terminal and click on the 'Claim' pad on the front of the terminal. You will then become the owner with full access rights.
Maintenance Fees
On Planet Calypso shops do not require a maintenance fee at the time of publishing, however this may not be the case for other planets. If applicable, the fee will vary depending on location and the fee amount will be shown on the Estate Terminal.
Landowner Fees
An additional landowner fee may also have to be paid upon selling an item, for instance if your shop is located on the ground floor of an apartment block or in one of the shopping malls. The sale price will be inclusive of the landowner fee.
Stocking Your Shop with Items for Sale
You can display items you wish to sell on floor space, shelves, walls and so on. Actual display options available will depend on the type of retail unit; shop, shop stall, shop booth, etc. Various props can be used to further assist with the displaying of items, such as tables, benches, chairs, seats, display boards for walls and many others. If you also wish to sell the props, you must first sell items that are on them or have them removed (Pick Up via right-clicking and transferring to PI).
To actually display items, drag them from your Personal Inventory and place them where required in the usual way
Making Your Items Available for Sale
Simply placing items does not make them available for sale. You now have to right-click on items and select 'Set Item Price' from the menu, then simply set the sale price. The item/s will now be available for retail to visitors of your point of sale. Visitors will be able to right-click and select 'Item Info' to view all details of the item/s, such as condition and TT value.
Shopkeeper Pads
You can have a Shopkeeper Pad (more than one ...) in your shop/shop booth or within the boundaries of your Shop Stall. These are participant-sized mannequins on short pedestals that can be acquired through the auction system, via private trade, or by looting them from various creatures. You transfer them from your inventory to where ever you want in or near your point of sale, and then right-click on the pad and select 'operate' from the menu to activate it. You can then assign to them different items from your inventory and make them available for sale to potential buyers, and or dress them in armour or clothing (that's also available for sale).
Mannequins
You can also have mannequin units in your shop/shop booth or near to your shop stall. They look identical to shopkeeper pads, but you can only use them for displaying clothing/armour/items. You cannot sell items through them. These are also obtained through the auction system, via private trade, or by looting them from various creatures.
Acquiring Items for Sale
There are various ways of acquiring items for sale. Buying them from the auction system, via private trade, items that you have looted from creatures, items that you have obtained via mining (ores and enmatters) and items that you have crafted or refined (using manufacturing terminals, refiners).
Allowing Another Participant to Run Your Shop
There may come a time when you need to have another participant manage your inventory, or some other aspect of your shop/shop booth/shop stall; because you're busy, going on vacation, or whatever reason. To enable this, simply arrange to meet someone (ideally whom you trust and know) in-game and then transfer the estate deed to the other person's inventory (PI) via private trade. He or she will then be able to access the estate in the same way you were able to. Should you no longer need the other participant's help, you will need to have the deed returned back to your PI in the same way; via private trade. You will then regain full rights to your shop. The length of time you want the other person to manage your shop, and where to meet up in-game so as to regain the deed, should be agreed upon beforehand.
Some Examples of Shops etc in Entropia Universe
Full Shop
Shop Booth

Shop Stall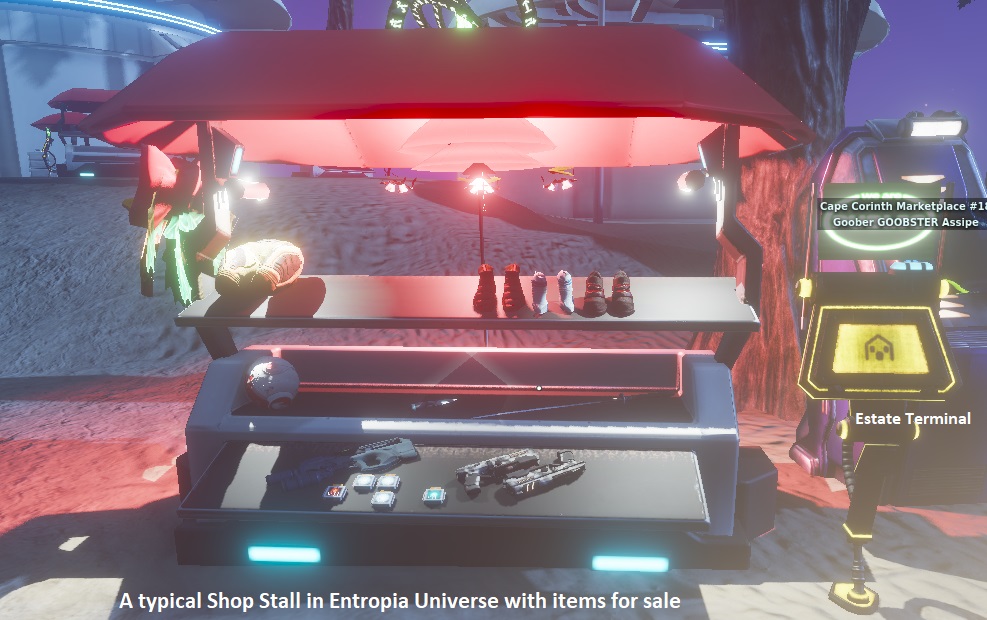 Shopkeeper Pad

Mannequins

Estate Deed


Estate Terminal Display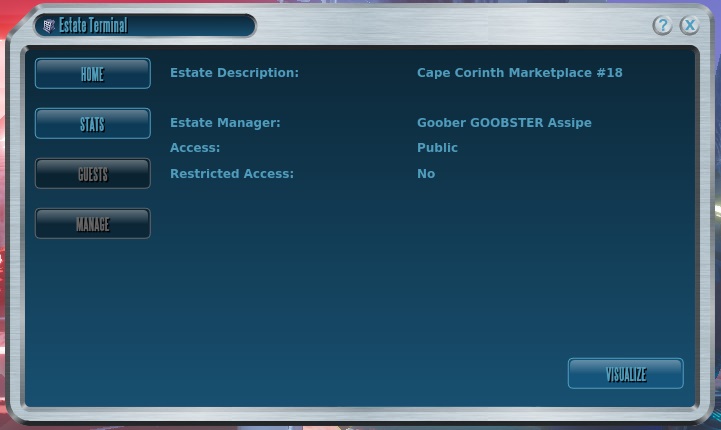 Shopping Areas throughout Entropia Universe


Note: Not all shopping locations maybe listed. Errors and omissions may occur.





Planet Calypso





Dear Mall (Amethera continent)

Emerald Lakes Shopping Mall (Amethera continent)
Genesis Amethera Headquarters complex (Amethera continent)
Medusa complex (Eudoria continent)
Omegaton West Habitat complex (Amethera continent)
Port Atlantis Shopping Mall (Eudoria continent)
Sakura City complex (Amethera continent)
Treasure Island City complex (Amethera continent)
Twin Peaks Shopping Mall (Eudoria continent)
Crystal Palace Space Station

Foma Asteroid resort



Monria



Cthulhu Tower

Cthylla Tower

Monria Hub





Rocktropia





Camp Crunk

City of Dreams
Hell complex
Isle of Souls
Secret Island

Tangerine residential area



Planet Arkadia



Arkadia Underground

Celeste Harbour
Celeste Island
Celeste North
Celeste Quarry
Celeste South
Sanctuary Cove

Victorious Firebase





Next Island



Serpentine Village
Ancient Greece - Thebes market
Crystal Peek teleporter area



Planet Cyrene





New Janus Island





Planet Toulan



Nahar Towers
WangXiang Pet Stable





End of Guide to Obtaining and Running a Shop in Entropia Universe
Last edited: