Joined

Oct 7, 2006
Posts

2,251
Society

Freelancer
Avatar Name

Eve Everglades
This request is for all of the people from the below list but not only:
Henrik Nel - Chief Executive Officer
Magnus Eriksson - Chief Operating Officer
Dennis Antonsson - Entropia Universe Product Owner
Justin Sorrell - Planet Calypso Product Owner
Magnus Ryme - Lead Developer
Mathias Gustavsson - Marketing Manager
My Antonsson - Community Relations Manager
How do you see the current state of communications and if you have anything planned to change in the very near future.
This being a special AMA, it would be the perfect occasion to have a few thoughts about probably one of the most important topics of the last years: communication between you and us.
You could discuss things like for example how do you think this is going right now, what is realistic and unrealistic to do on this topic, because many times people ask more than a company could disclose or topics MA can't discuss. By the way, it's much better to say that it cannot be discussed; or that you are working on it, or that it's in plan to be worked on than to keep quiet.
The general feeling is that at many times there's no one over there and the silence is doing a lot more damage to the company's image than an update with no update could. You are probably aware of all important topics on the forums, I'm pretty sure you're 'shadowing' on forums and in game, but being invisible is bad while being more open would greatly benefit you and us all.
From you last videos we can see that My is doing a good job and that you guys improved relations internally, it's time you improve the relations with your player base too and I think you could gain great points with very little resources. You have plenty of examples, you could ask for more ideas too, here are a few more, you could:
- do a task for everyone in the office to make one post a week (or even a month) on one, any of the topics on the forum.
- do a presentation video of the support team, put a human face on the guys that are behind the support tickets;
- change the support strategy, replace the copy pastes with simple one line manual answers, it would require a few extra seconds but the copy-paste answers are driving us nuts; as you can se from the reactions
here
it's affecting everyone: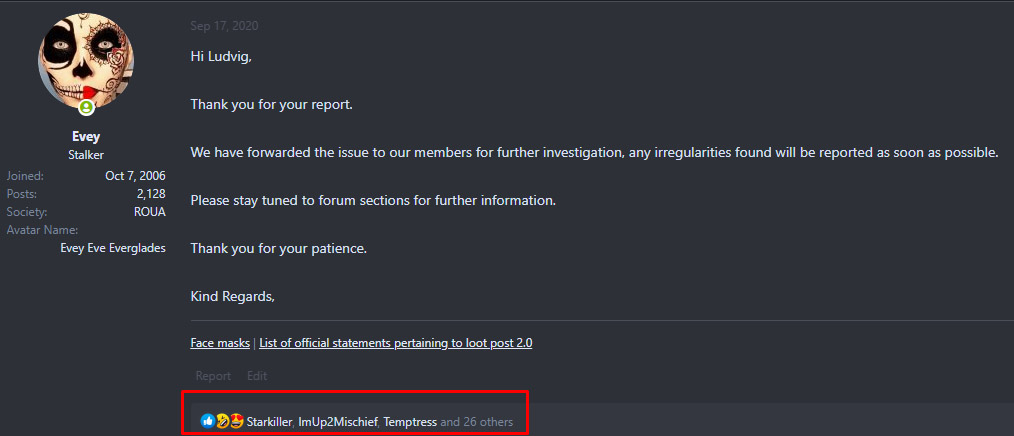 - pop in the Twitch channels or even discord channels and discuss various things;
- come up with a strategy for Twitch streamers, incentivize, request specific topics etc;
- people some better (and more frequent) teasers about what's in the pipeline, so instead of "Folks, have your sound turned on", you could tease players with: "we'll make ubers feel noobs again, be warned and skill up";
- make use of that ingame popup for news, we really need that in place for any type of news; you could even use it to create ingame polls maybe?
Probably the big boss is saying no to many of your ideas but keep pushing, breaking his skepticism about the communication has a lot more advantages than disadvantages. Big boss should trust his people more and let them do the communication strategy.
Bottom line, the presence of the company seems absent and is really needed, everywhere, not just on discord; discord is a small group, growing yes, and it's a good thing what's going on over there, but make use more of the official channels, forums, in particular and on all topics.
Thanks in advance.
Regards
Last edited: