Joined

Feb 2, 2011
Posts

2,834
Location

Salt Lake City, USA
Avatar Name

Rachel MsPudding Hawkins
Disclaimer
:
Alright, alright... I am definitely biased as the owner of Twin Peaks Mall writing this review of Legend's new "makeover" he recently did with his shops on the 2nd floor of the Twin Peaks Mall. BUT, that does not change the fact that his shops are completely awesome, incredibly user friendly, and packed with useful information! Just walking around in them for 10 seconds, right away you notice that he put a
TON
of work into these shops. Also, he's not asking me, nor does he know I'm writing this review. I chatted with him in game about the new signs, info, and "remodel" he recently did, and wanted to give him a shout out for all of his hard work and dedication he's put in to making these shops as badass as they are.
Location:
Twin Peaks Mall
: 2nd Floor
-Electric Armor Shop
-Mutant Armor Shop
-Robot Armor Shop
-Animal Armor Shop
Review:
After getting off the televator on the 2nd floor of the Twin Peaks Mall, you see two shops next to each other, one is an Electric Armor Shop and the other is a Mutant Armor Shop. Being the "freak" that I am, I stepped into, you guessed it, the Mutant Shop first
Armors for every and any Mutant occasion! My jaw bout' hit the floor after all the signs loaded in. You see these big beautiful signs with the name of the mob you want to hunt, locations it spawns in, and what armor is recommended for which maturities, with the armor conveniently below. This guy has gone and done the work for you!! He's taken every tidbit of useful information off the EntropiaWiki and served it up on a gorgeous, elegant, and easy to understand plate. I was impressed, to say the least
If I'm feeling like some Prots, Rextelum, or Feffox, I can quickly see what maturity I intend on hunting and pair it with the right armor
He's got notes on everything, folks! If you're feeling lazy because minimizing the game and doing a search on the wiki makes you sweat a little, this is the shop for you!
My next stop was down the hall on the far end away from the televator on the left side, his Animal Armor Shop. I'm glad I checked it out, because it was just as impressive as the Mutant Shop
Inside, it was the same type of layout with amazing signage and information, broken down in an easily digestible manner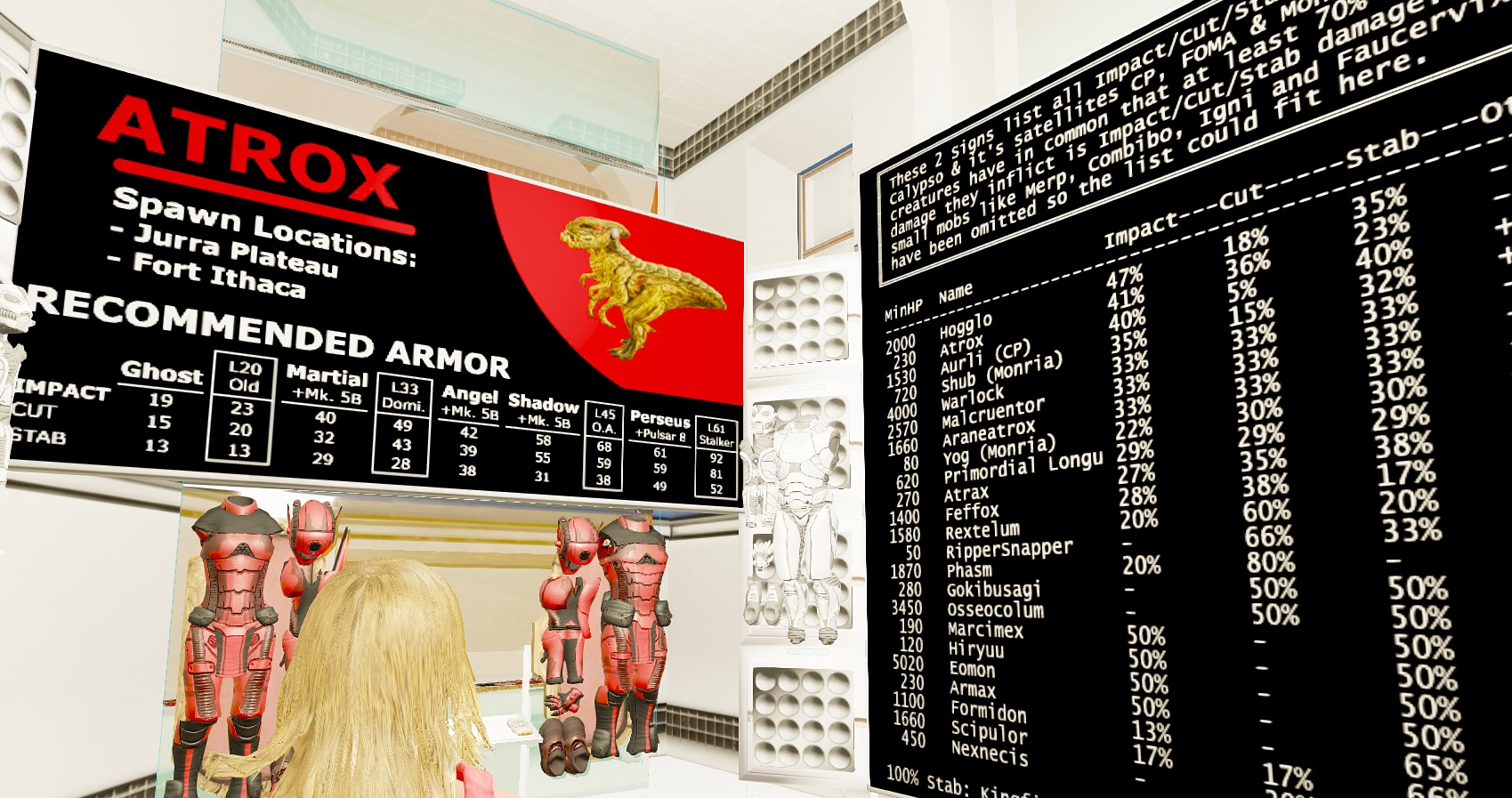 You can quickly reference all of the Imp/Cut/Stab mobs and their % breakdown, minimum HP, you name it, he's got it!
So, after picking my jaw up off the floor, seriously, I am so damn impressed with the organization and beautiful display of creativity and utility that Legends' packed into these shops; I decided to "price check" his armor options with what I could buy off of the auction and see what most of this stuff was selling for on a 'Monthly Basis', just to get my bearings
I randomly selected some armor items to see if his prices were competitive. Here's what I found:
Legends' ( Perseus Harness (M,L) @ 145.97% ) versus Auction House Monthly ( Perseus Harness (M,L) @ 147.88% )
Legends' ( Male Ghost Thighs @ tt+26.98 ) versus Auction House ( Male Ghost Thighs @ tt+24.01 )
Legends' ( Male Gremlin Harness @ tt+25.98 ) versus Auction House ( Male Ghost Thighs @ tt+23.64 )
Legends' ( Mayhem Harness (F,L) @ 169.98% ) versus Auction House ( Mayhem Harness (F,L) @ 171.89% )
Legends' ( Polaris Harness (F,L) @ 104.98% ) versus Auction House ( Polaris Harness (F,L) @ 101.07% )
Turns out that the items he was selling were on par with what the auction price trends were, in some cases much lower, and in other cases higher. I will mention that a few of the items I checked weren't even available on the auction house, but I could find them in Legends' Shops. Legends' prices seemed very fair, but I admit, I did not price check everything.
​
Final Impression:
I loved the layout, the user friendly signs and useful information. I'm a visual person, so seeing the mob and the damage types right there next to the armor was very helpful. I liked that Legends' had gone to the work to help point me in the direction of where to hunt these mobs, how to equip myself, and conveniently supplied everything w/ competitive pricing.
This was probably one of the best player owned shops I have ever been in. Legends' has clearly spent hours upon hours taking all of the crucial and important info from the Entopia Wiki and converting it into the game via signs. When I had a question I sent him a PM and he instantly replied, cheerful and willing to help.
I just wanna say to Legends, you're an asset to the mall, hunting community, and the amount of work you put into these shops is nothing short of impressive. Very cool, Legends, very cool indeed
If you need a place to suit up before your hunt, you know where to go

Cheers,
Pudding